Which mode of transportation (bicycle or car) will be the fastest at completing 10 errands in Canmore? We challenge you to try it out! The car time to beat is 41 minutes. The fastest time will win a $100 Gift Certificate from MEC.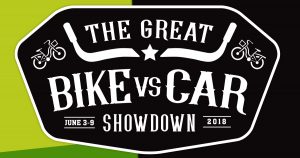 Click here to download the full instructions to complete this challenge.
Click here to download and print a copy of the passport card that will be getting stamped at each business. You can also get a passport card at the 10 participating Bike Friendly Businesses.
The stamps are located inside the businesses at the customer service desk or, if the business is closed, can be found outside the main entrance in a mason jar with the CC logo on it.
The map with the locations of the 10 Bike Friendly businesses can be found below: