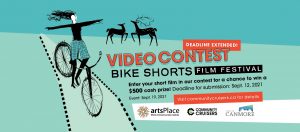 Are you a local videographer? Enter our video contest! You could have your bike-themed video featured at Bike Shorts on September 19, 2021 and compete for a Grand Prize of $500 cash.
Use this online form to submit up to three films by September 12, 2021.
Send us your bike-themed films of 10 minutes or less – rad rides, peaceful cruises, commuting by bike, road warriors, unicycling, bike inventions, bike art, bike culture, any form of pedal power qualifies.
To be eligible for the $500 Grand Prize, videos must have local content (i.e. be filmed in the Bow Valley or by Bow Valley locals or feature Bow Valley locals).